The pro shop handles all the popular brands, Easton, Warrior, Bauer, CCM and many more. Stop by and see what we have. If we don't have it, we can get it for you, with a minimal wait. Stop by to see all the deals and let us fit you into the equipment that is best for your needs.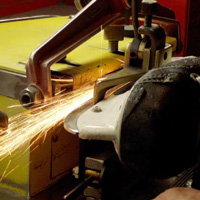 An often overlooked aspect of shopping at the Pro Shop is our devotion to service and repair, particularly skate sharpening. Not many in house pro shops really take the time to explain the basics of skate sharpening and the nuances that come along with it. So we hope this overview gives you a better sense of what exactly happens when your skates get sharpened and what qualifications our employees must go through before they are allowed to sharpen skates.
PRO SHOP HOURS:
Monday – Friday evenings – 5:00 pm – close. Weekend hours vary due to events.