Prospect Skate
Open to any and all 7th an 8th graders interested in playing High School hockey in the future.
The Martin Arena is home to the Mount Pleasant Oiler Hockey team. All home games and practices are held at the Martin Arena.
Mount Pleasant Oiler Hockey is a member of the Saginaw Valley League, the high school conference with the longest tenure in the state of Michigan. The program competes in Division 3 at the state level, though many of their regular season opponents range across Divisions 1 and 2.
The program began in 2008 with Paul Visich as the inaugural season's coach. After three seasons at the helm, Visich stepped down, allowing Alex Weisenburger to take over the reigns for his two year tenure. In just its second season of existence (2009-10), the team boasted its first winning season, with 15 wins. Since that time, the program has continued to build steam and made a nice playoff run in the 2012-13 season, winning its first two playoff games until the run was stalled in the Regional Finals.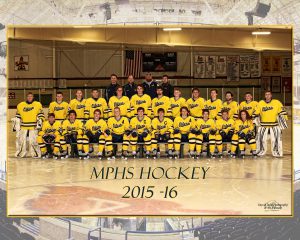 Mount Pleasant Hockey is proud of its commitment to the community both on and off the ice. Players and coaches participate in several mentoring and coaching programs for the youth in Mid-Michigan. Their partnership with the Amateur Hockey Association of Mount Pleasant (AHAMP) has continued to build. As the program moves forward, it is becoming a fixture in AHAMP's Learn to Play Hockey program and its Annual Bootcamp over the summer.
As the program continues to grow, its focus centers on providing a consistent and accountable atmosphere in order to develop players and young adults.
Check out the calendar for upcoming games and events. Stop by their websites for current rosters and standings.
Mount Pleasant Oiler's Website: http://www.mpoilerhockey.com